Broken Gum Retreat - Hartley, South Australia
| | |
| --- | --- |
| Host | Bill & Norma Osborne |
| Region | Adelaide Hills |
| Address | 417 Jaensch Rd , Hartley, South Australia |
| Phone | 0424 001 545 |
| Email | retreat@brokengum.net |
| Website | Visit Website |
| Rating | |
| Breakfast | Full country style breakfast |
| Bedrooms | 3 bedrooms & loft |
| Bathrooms | 1 |
| Tariffs | From $150 per night |
| No. of Guests | Up to 8 guests |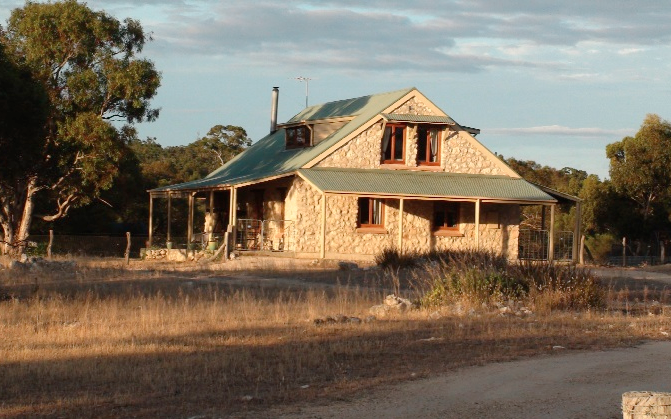 Click image to view more photos

Nestled in country South Australia, just 50 minutes east of the Adelaide CBD, lies a unique bed and breakfast country retreat called 'Broken Gum'. The property accommodation lies in the centre of three regions, namely Adelaide Hills, Fleurieu Peninsula and Murray Lands.

On 150 acres of rolling tree studded countryside, is our beautiful 3 bedroom, limestone and recycled timber loft homestead, which is a fully self contained bed and breakfast with stand alone solar power and rainwater. The open plan downstairs kitchen, dining and relaxation area, boasts a slow combustion plus wood stove, great for cooking delicious meals in winter and providing piping hot water. The LP gas stove is good for cooking during the summer months. The upstairs open area is a beautiful place for relaxing and has spectacular views. It can also sleep 2 people.

Individuals, couples, groups and families love this property. Kids delight in collecting eggs from free range chickens. A favourite pastime is spotting kangaroos, sheep, lambs and a variety of lizards, ranging from the tiny painted gecko to the larger goanna plus abundant birdlife ranging from the tiny spotted finch and blue wren right through to the majestic wedge tailed eagle. The camp fire setting is perfect for sharing stories, toasting marshmallows and star gazing on still clear nights.

20 acres of virgin scrub houses some of the rarest native orchids and wildflowers in the region and is a delight to wildflower enthusiasts during springtime. Kangaroos can often be seen bouncing through this delightful area.

This property also houses South Australia's first Carbon Neutral Canopy Project of 14,000 eucalyptus, acacia, melaleuca and other native species.

There are stunning panoramic views of Mount Barker and Lake Alexandrina, plus breathtaking sunrises, sunsets and moon rises.

Whether going on a family adventure around the property, a picnic in the top paddock or a short leisurely stroll up the hill where wild daisies in season display a magic carpet of yellow, you will love the experience of just getting back to nature. And yes, we are dog friendly.

For a change of pace, DVD player, a collection of DVDs and CDs, TV, iPod docker and radio plus internet access is available. All in all, a unique and restful holiday accommodation awaits you!
What people say about Broken Gum
"Absolutely magnificent. This is the best venue within an hour of Adelaide to unwind, connect and be re-energised with friends and family" ... David

"Came for a night, stayed for a week. Great base for our work in and around Adelaide. Good way to mix business and pleasure. Thanks a lot Bill and Norma, see you next year" ...El & Bob

"Paradise! ...didn't want to leave. We'll be back again" ...Michelle and Anthony

"An amazingly beautiful place.... loved the little extras, like the beautiful Egyptian linen and the picnic backpack...So counting the days 'til we return. Thank you" ... Sue and Andy

"A special place to spend time with family and create special memories" ...Louise

"Bonfire was awesome" ...Alex aged 10 years

"Saying thank you, just doesn't seem enough! It is more than we ever imagined. No one can put a price on this gem. We would love to come back"... Sam & Anne

"Beautiful, inspirational, relaxing, cosy"...Catherine

"Loved having breakfast on the verandah while looking out over the valley" ... Peter

"Morning walk around the property was amazingly wonderful. Beautiful view works wonders for the soul" ...Melba

"Great place and location - plenty of things for the kids to do. Will be back" ... Jamie & kids