Lilybank - Stratford, Queensland
| | |
| --- | --- |
| Host | Mike & Pat Woolford |
| Region | Tropical_North |
| Address | 75 Kamerunga Road, Stratford, Queensland |
| Phone | (07) 4055 1123 |
| Email | lilybank@bigpond.net.au |
| Website | Visit Website |
| Rating | |
| Breakfast | Special Breakfast |
| Bedrooms | 5 |
| Bathrooms | 5 Ensuite |
| Tariffs | From $110 per night |
| No. of Guests | Up to 12 guests |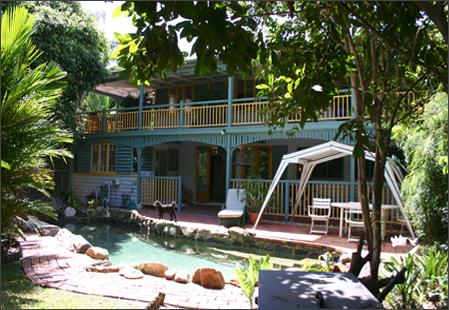 Click image to view more photos

The property dates back to 1887, just 11 years after the first settlers began arriving and was established on 1600 acres, becoming the first tropical fruit plantation in North Queensland and also was a popular hotel and Inn or guesthouse.

For many years it was the home of Mayor A.J.Draper, regarded as the "father" of the city of Cairns. The plantation was long ago redeveloped into the suburbs of Stratford and Freshwater. Happily, Lilybank homestead is still here to welcome visitors to this magnificent part of Australia, the Great Barrier Reef and World Heritage rainforests, and provide you with excellent Bed and Breakfast accommodation.

As the region's most popular B&B. We have welcomed more than 16,000 guests over the last 16 years and Lilybank Bed and Breakfast has featured for the last twelve of those years as a "Frommers' Favourite" in their Australian travel publication.We are also recommended in Fodors and a host of other publications.