Buxton Manor - North Adelaide, South Australia
| | |
| --- | --- |
| Host | Roger |
| Region | Adelaide |
| Address | 67 - 75 Buxton Street, North Adelaide, South Australia |
| Phone | (08) 8272 1355 |
| Email | rodney@adelaideheritage.com |
| Website | Visit Website |
| Rating | |
| Breakfast | Self Catering |
| Bedrooms | 9 Bedrooms (4 apartments, 1 cottage) |
| Bathrooms | 5 Bathrooms |
| Tariffs | From $250 per night |
| No. of Guests | Up to 18 guests |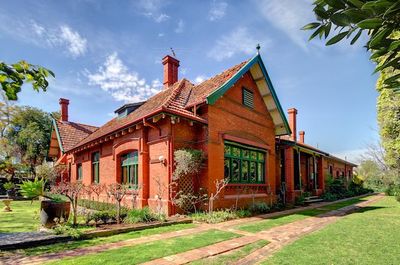 Click image to view more photos

The Buxton Manor is a glorious, large Mansion built in 1908 in the William Morris 'Arts & Craft' theme of decorative red brick with steep sloping roof lines and beveled diamond shaped, lead lighted windows. The Manor is surrounded by half an acre of very manicured gardens with masses of old fashioned scented roses, cottage flowers and sweeping lawns. It has been heritage listed by the government and completely restored by your hosts, Rodney & Regina Twiss.
It houses our best collection of Australian antiques and memorabilia and features open log fires, polished spruce floors, decorative fireplaces, marbleized ceilings, rag rolled faux paint finishes , ornate ceiling roses, gilt mirrors and sumptuous antique beds. It lies in the heart of the exclusive historic area of North Adelaide, part of the City of Adelaide.
Features 4 separate, lavish self contained spacious Apartments and 1 Cottage. All apartments open onto ½ acre of beautiful gardens and lawns with outdoor designer furniture, umbrella's and 2 wood fire BBQs. There is complimentary off street car parking for each apartment, a communal laundry and wireless internet as well! Located on Premier quiet North Adelaide Residential Street, close to Adelaide's top restaurants, pubs, cafes and nightclubs!
• Detailed visitor information & booking service available
• Complimentary delivery of Room Service from 'Scuzzi Café' & 'Beyond India' Restaurants • Metres from the Adelaide Connector Bus stop which loops North Adelaide and the CBD featuring the world's first Solar Bus, 'Tindo' operating daily from 8AM to 6PM.
***North Adelaide Heritage Group wins Fodor's Choice Award!***
Fodor's Travel, the foremost name in travel publishing, has named the North Adelaide Heritage Group a 2010 Fodor's Choice selection. This distinction recognizes a remarkable achievement for us, receiving this award for the 5th consecutive year!! As a 2010 Fodor's Choice recipient the North Adelaide Heritage Group receives special recognition in Fodor's guidebooks as currently being among the best in it's field.
All accommodation is self catering and does not include daily maid servicing unless otherwise specified. (For stays of 5 nights or more a maid service will occur once during your stay. If breakfast is included a maid service will occur daily).
***North Adelaide Heritage Group maintains a strict no-noise policy and unauthorized parties, group gatherings and functions are strictly prohibited. Breach of this policy will result in the offending guests being required to leave the premises with no refund. Smoking is not permitted indoors. Should smoking occur within our accommodation a minimum charge of AUD$100 will be applied.