Thorngrove Manor Hotel - Stirling, South Australia
| | |
| --- | --- |
| Host | Thorngrove Manor Hotel |
| Region | Adelaide Hills |
| Address | 2 Glenside Lane, Stirling, South Australia |
| Phone | (08) 8339 6748 |
| Email | reservations@thorngrove.com.au |
| Website | Visit Website |
| Rating | |
| Breakfast | Continental Breakfast |
| Bedrooms | 6 |
| Bathrooms | 2 |
| Tariffs | From $760 per night |
| No. of Guests | Up to 6 guests |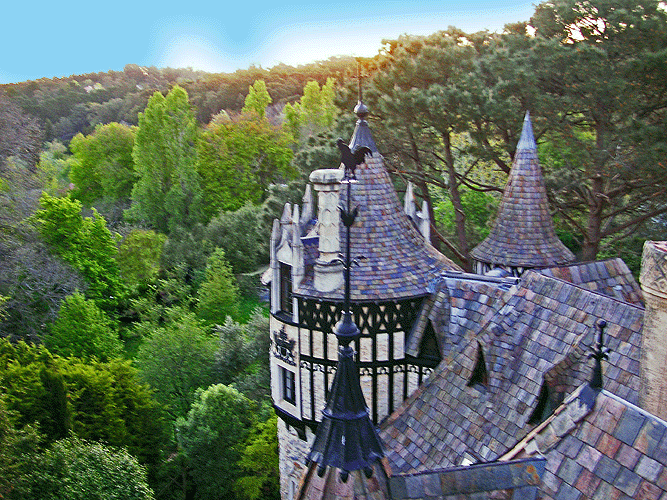 Click image to view more photos

A recipient of many awards, Thorngrove Manor is one of the world's outstanding and artistic hotels; displaying unique, creative castle inspired architecture, captivating style and contemporary influence. Distinctive and captivating iconic baroque towers and turrets are clues to its flamboyant interiors. Inspired timelessromantic design with antique and finest bespoke furnishing, hand-painted friezes and signature artworks exploit the diverse room shapes to create an escapist's dream. It is a dynamic property where individual living spaces provide unique engaging experiences for the soul. There is no more ingenious fusion of the contemporary and the baroque anywhere!

Thorngrove Manor is an example of creative romantic imagination and architectural freedom. It displays the energies of art in building, in a form that transcends age. The pragmatic elements of architectural design, such as cost, construction engineering and technology have been used to create both a functional and exceptionally artistic form. Quality and timeless materials, including glass, stone, copper and glass are used throughout in its construction. Throughout the building there are constant and recurring images for the eye to see and enjoy, and provide the essential cohesiveness of the design concept. Rooms are decorated in signature colours selected from the mediaeval colour palette; dominant hues with accent colours. The pointed arches and turrets, decorative plasterwork and the elaborate entrances of this style of architecture provide whimsical appeal. The inviting ambience is effected by light and shadow in balanced unified interiors, along with textured and finely decorated and sculptured walls. Strong personality is built into the architecture, and complemented by the furniture and fittings. The shadow lines and surface detail enliven and define the living spaces. It is the ornamentation and design intricacies that have been responsible for the important inherent detail and characteristics in the Thorngrove guest accommodation that ensures it remains distinctive and inspired by a philosophy of enchantment. It is architecture at ease with itself and this peace and harmony is offered to each guest.

Every modern facility, including HDLCDTV, DVD, CD, wireless internet and ensuite spa baths have been discreetly woven into this romantic wonderland in the Adelaide Hills.

Privacy is absolute; you may never see the other guests.

Romantics - this could be journey's end!