South Australia Bed and Breakfast Search Results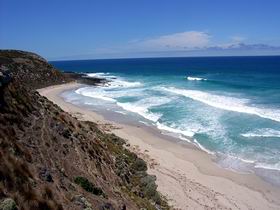 Flour Cask Bay Retreat - American River
Flour Cask Bay Retreat is an affordable totally solar and wind powered eco retreat situated on the south coast of Kangaroo Island.
Call owners on (08) 8553 7235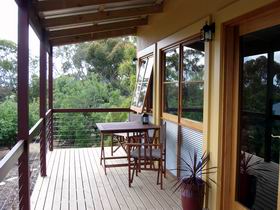 Henry's Retreat - Willunga
Henry's Retreat is a secluded, luxurious cottage set in the grounds of Willunga's historic Post Office and Telegraph Station. It is situated on the High Street, in close proximity to all of Willunga's amenities.
Call Sue or Richard on (08) 8556 2005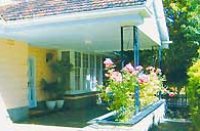 Homestay Brighton - Brighton
Spacious home and grounds in quiet suburb close to Brighton/Seacliff beach. Public transport to the city and nearby large Westfield Shopping Centre. Ideal for day trips to the Fleurieu Peninsula with its picturesque wine areas, southern vales and coast.
Call Ruth & Tim on (08) 8298 6671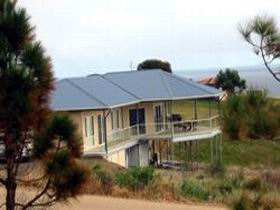 Lindsays of Kangaroo Island - Penneshaw
Kangaroo Island Seaview Guesthouse has frontage to three roads, Chapman Terrace on the seafront and Drew Street and Dauncey Street, which is the main street in Kingscote. The Guesthouse is built of limestone with high ceilings and spacious verandahs.
Call owner on (08) 8553 1280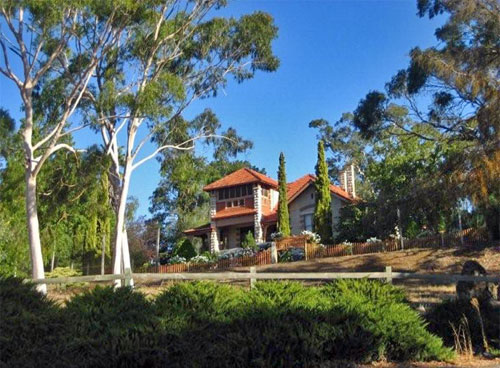 Marble Lodge - Angaston
Situated on a privileged site in a quiet residential area of the lovely town of Angaston, Marble Lodge is a luxury fully hosted retreat, a "Special Place".
Call Shirley Rohrlach on (08) 8564 2478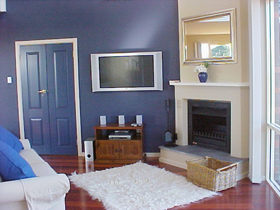 Mount Bold Estate - Kangarilla
Indulge in the luxury of this spacious, new, architecturally designed two-storey apartment. Enjoy a magnificent panoramic view of the Southern Vales and the spectacular sunsets from your own balcony or from your two-person ensuite spa.
Call the hosts on (08) 8383 7185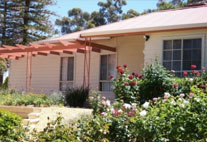 Ohanez Holiday House - Berri
Accommodating up to 8 people Ohanez Self Contained Holiday House offers a great place to stay while holidaying in the Riverland. Located in a quiet residential area, just a few minutes walk from Berri's main town centre and the Murray River, this holiday home has so much to offer.
Call Kerin Vallelonga on (08) 8584 1357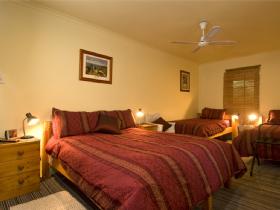 Open House - Parndana
The Open House offers fully hosted bed and breakfast accommodation in a large four bedroom house, which can accommodate up to ten adults. Modern style bed and breakfast with all facilities and ensuite bathrooms
Call owner on (08) 8559 6113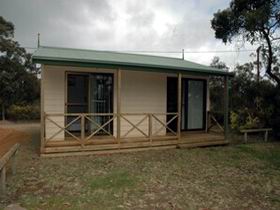 Parndana Hotel Cabins - Parndana
Parndana Hotel Cabins are fully self contained and sleep up to six people. They are situated in a tranquil rural bush setting on the perimeter of the quiet township of Parndana in the centre of Kangaroo Island.
Call owner on (08) 8559 6071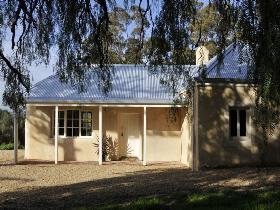 Peppermint Farm Cottage B&B - McLaren Vale
Peppermint Farm Cottage is a two bedroom self contained bed and breakfast surrounded by vineyards in the heart of the McLaren Vale wine region, 45 kilometres south of Adelaide.
Call the owners on 0417 816 475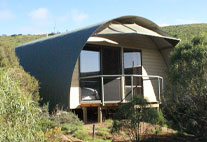 Saunders Gorge Sanctuary - Mt Pleasant
Bed & Breakfast Accommodation situated in the Saunders Gorge Sanctuary at Sanderston on the eastern slopes of the Mount Lofty Ranges referred to as the Adelaide Hills only a 90 minute scenic drive from Adelaide.
Call Brenton & Nadene Newman on (08) 8569 3032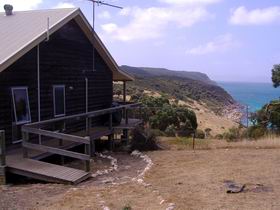 Sea Dragon Lodge - Willoughby
Sea Dragon Lodge offers the complete Kangaroo Island experience - luxury seafront accommodation, captivating coastal vistas, premium local food and wines, personalised 4WD tours and a warm, inviting lodge atmosphere.
Call owners on (08) 8553 1449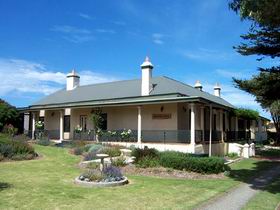 Seaview Lodge - Penneshaw
Seaview Lodge is an historic circa 1890 guesthouse now restored for a completely relaxed getaway. Five double rooms, one with an additional single bed, two with four-poster beds, one with twin beds, ensuites and reverse cycle air conditioning.
Call owners on (08) 8553 1132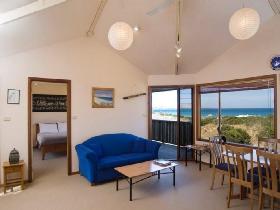 Silver Sands Bed and Breakfast - Aldinga Beach
Romantic getaway less than 40 minutes from Adelaide. Private self contained apartment overlooking beautiful Aldinga Bay. Spectacular views of coastline and vineyards. Close to restaurants, galleries, produce and craft markets.
Call the hosts on (08) 8557 4002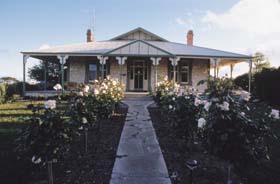 Stranraer Homestead - Kingscote
Stranraer Homestead is set on 1290 hectares of working property, producing prime lamb, wool and grain. Adding to its beauty, the property has two large, bird filled lagoons surrounded by hummocks, beautiful scenery and wildlife.
Call Lyn and Graham on (08) 8553 8235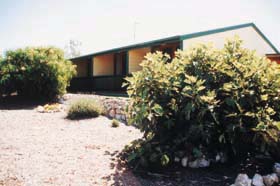 The Fig Tree Bed and Breakfast - Baudin Beach
The Fig Tree Bed and Breakfast accommodation is situated in a peaceful location with views of the countryside and ready access to the beach. Located at picturesque Baudin Beach on Kangaroo Island
Call Chris and Allen Guthleben on (08) 8553 1326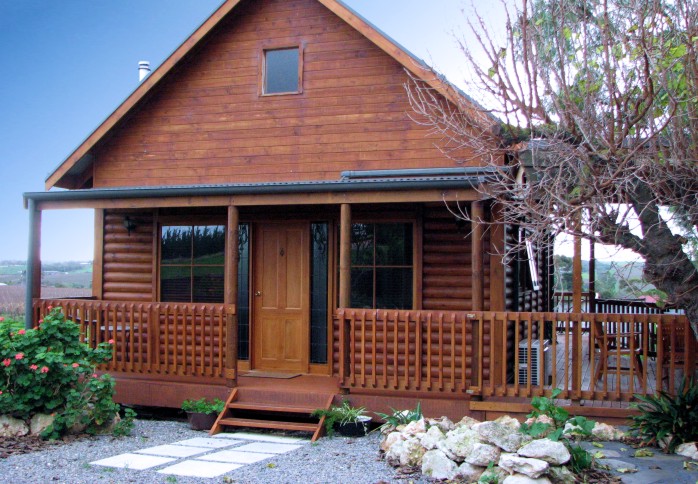 The Marlene - Mclaren Vale
The Marlene is a modern, self-contained two bedroom, log chalet with a cathedral ceiling and a mezzanine floor to the upstairs bedroom. Both bedrooms have balconies with magnificent vineyard views
Call the hosts on 08 8323 9806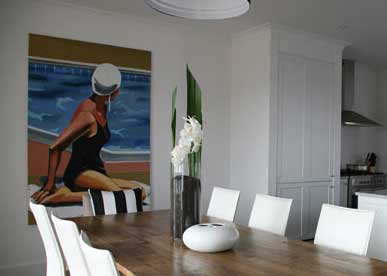 The Summer House - Port Elliot
Encompassing three bedrooms and two bathrooms, The Summer House is the perfect Port Elliot accommodation for a getaway with friends or family - the ultimate retreat.
Call owners on 0411 668 155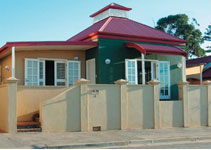 Time and Tide Beach Apartment - Semaphore
TIME AND TIDE BEACH APARTMENT is located at Semaphore, South Australia . The architecturally-designed apartment was built in 1996 and is now a private holiday house. It is centrally located with panoramic views of the coast and Semaphore's esplanade.
Call Lindy Revill on (08) 8449 7102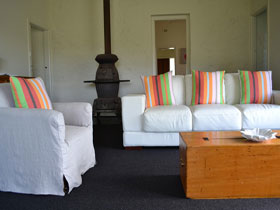 20 Hill Avenue - Keith
20 Hill Avenue is a fully self contained local stone bed and breakfast cottage nestled in a spacious garden set back from the road. The house is only 300 metres from shops and eateries and is situated on the 'best street' in Keith.
Call the hosts on 08 8757 8224